Kamala Harris Shines in Purple as the First Female Vice President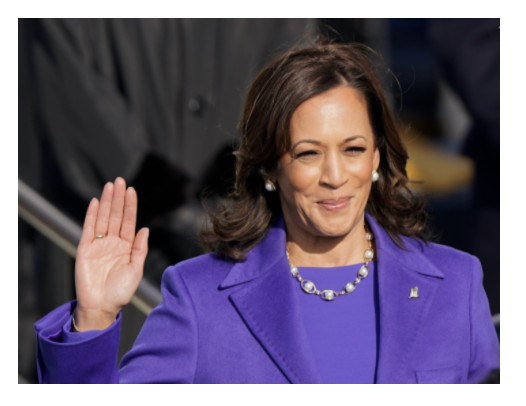 All that glitters is not gold- sometimes it's purple.  
Walking down the stairs on her way to be sworn in as the first woman Vice President, Kamala Harris' outfit pays homage to another moment in history. Harris gives a nod to Shirley Chisolm, the first Black woman to be elected into the United States Congress, and the first woman to run for the Democratic Party's presidential nomination in 1972.  Chisholm used yellow and purple as her campaign colors when she ran for president. Kamala Harris reflected Chisholm's actions by adopting gold and purple as her own campaign colors when entering the presidential race in 2019, before she endorsed Joe Biden. CNN's Abby Phillips comments, "You see Kamala Harris nodding to this major moment in American history for so many women, people of color, for her sorority sisters in Alpha Kappa Alpha."
Representative Barbara Lee, Democrat of California admits that she became involved in politics only after witnessing Shirley Chisholm's presidential campaign. After witnessing Kamala Harris' historic inauguration, she states, "Here you have now this remarkable, brilliant, prepared African-American woman, South Asian woman, ready to fulfill the dreams and aspirations of Shirley Chisholm and myself and so many women of color…This is exciting and is finally a breakthrough that so many of us have been waiting for. And it didn't come easy."
As Kamala Harris is sworn in, she becomes the first female, first Black and first South Asian vice president and brings hope and justice after so long of needing diversity and representation within US government offices. She establishes a tone of unity and comes farther in leadership than any woman ever has. The NY Times states that Harris, "embodies the future of a country that is growing more racially diverse."
Whether it be a state representative or a young girl watching the inauguration of the first woman Vice President, Kamala Harris is able to inspire and lead many into the light that was always deemed "too bright" for people like her. Now she is able to show others how to shine on their own from inside the White House.