US Open: Djokovic vs. Medvedev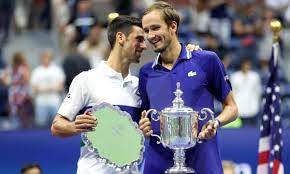 This past weekend, two of the top tennis players in the world, Novak Djokovic of Serbia faced Daniil Medvedev of Russia in the U.S. Open final. The final took place in New York City at the USTA Billie Jean King Tennis Center. However, there is a new dawn of tennis with Medvedev's win, showing the tennis world that an era is coming to end. An era of dominance and greatness. The era of Novak Djokovic.
In a thrilling match, the Russian shocked the world to find his first major title by beating Djokovic in 3 sets 6-4 each. Djokovic was one major title away from completing the calendar year Grand Slam, winning all 4 major tournaments (Wimbledon, US Open, French Open, and Australian Open). Aside from the match, the final was a great spectacle, attracting stars like Brad Pitt, tennis legend Rod Laver, and more. Furthermore, the crowd at the final was nothing short of electric, after long and tough points. To a person who has never watched tennis, you could easily tell the crowd was for Djokovic, though respect was held throughout between the spectators and players.
In the leading days and weeks to the US Open, tennis enthusiasts around the world thought – Could Novak Djokovic pull off the calendar year Grand Slam? Last time this feat was pulled off in men's tennis was by Rod Laver in 1969. Though, after the decreasing presence of Roger Federer and Rafael Nadal, the Serbian superstar has tried to cement his path to getting in front of the two greats and becoming the greatest tennis player of all time. And he was so close to accomplishing his goal, but in his way stood one man: Daniil Medvedev. Medvedev is a 25 years old Russian tennis player and is ranked World No. 2 behind Djokovic. He handled the tough task of Djokovic in 3 sets, winning his first major title with more to come. The youngster is slowly becoming seen as the new face and generation of tennis, signaling the end of an era of greatness of players like Federer, Nadal, Djokovic, Serena, and more.