SMHS Girls Volleyball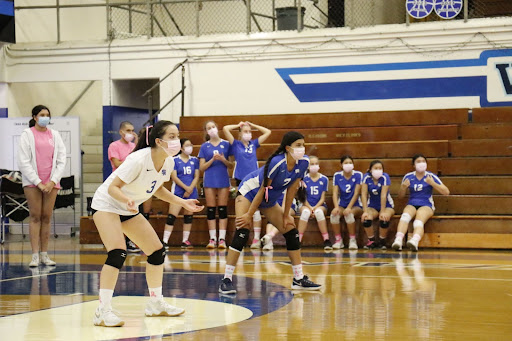 Though the SMHS Titan Girls Volleyball season has ended, the training to become even better continues. While the season was challenging at times, the players have lots of memories and the experiences will help them grow into even better players in the future.
"The season went well," said head volleyball coach Angel Ramirez. "This was a great learning experience for our lower level teams as this was the first indoor high school girls volleyball season for 10th and 9th graders. Our Varsity team, who were well aware of the high level of competition we were looking to go up against, were determined to go out and compete." 
The team started summer training in mid July and finished out the season on October 13, 2021. "I definitely feel like the program has grown a lot since the start of summer training and in turn we were able to have a good season competing in matches and participating in tournaments," said coach Ramirez.
The Varsity team finished 5th place in Rio Hondo League, but the Titans earned some great wins outside of our league schedule and placed 3rd in the Pasadena Poly tournament, placed in the silver playoff bracket at the Crescenta Valley tournament and won out some non-league matches against Glendale High School, Charter Oak High School, and others. The Junior Varsity team also competed well throughout the season, coach Ramirez said, finishing out 3rd at the Azusa Tournament, defeating Monrovia both at home and away, and also earning some great wins outside of league play. 
"It definitely felt like this group used the season to make a name for themselves and did well overall," said coach Ramirez. 
Freshman Ella Jackson agreed. "I think the season was really fun. We definitely tried our hardest and played our best," she said. The season allowed for some fun memories, too. "My favorite memory of the season was the talks we had in the locker rooms before and after games and practices," said Chloe Wang, 9. 
Coach Ramirez said the season was also a great opportunity for the Freshman/Sophomore team to learn the ins and outs of high school volleyball. "They put up some good scores against their competitors. This group especially was always eager to get the opportunity to get on the court and compete," he said. 
The season included more than just games. For example, in recognition of Breast Cancer Awareness Month and in partnership with South Pasadena High School, the Titans participated in two matches where they recognized and raised approximately $7,000 for the Cancer Support Community of Pasadena. The girls were also able to recognize 10 graduating seniors at the team's last home game of the season by decorating the gym with posters, balloons and handing them flowers as they brought their families on the court for pictures. 
 "As a coach I definitely have to appreciate the efforts our athletes put in throughout the season," said Coach Ramirez. "Balancing academics, school activities and managing their at home lives is not easy, all while having practices and matches through the week, even tournaments on the weekends. The amount of dedication our program has displayed, the competitiveness during matches has not gone unnoticed and I am truly proud of SMHS Titan Girls Volleyball."