Girls Golf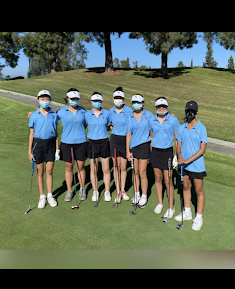 The varsity girls golf team placed third in the Rio Hondo league this week. During the season, the team plays with each school (Temple City, South Pasadena, Alhambra, Gabrelino, La Cañada in the league two times. Throughout their season, they won every game except the two with Temple City and the one with South Pasadena (the team tied the other game). 
At first, South Pasadena and San Marino were tied for second place, but that was determined when the teams competed in CIF Individuals, a competition that takes 7 of the best players in the league to play and move on. The team played at Alhambra to try to not only compete for second place, but also compete for a spot in the top 7. What was different about this game, however, was that the girls played from the blue/men's tees (except for hole 16 where they played from the white tees). 
Notably, Janette Fu, the captain, and Glenda Chen were tied for the 7th spot, both of them shooting 80. 
Although competing for CIF Individuals is done, the girls may potentially play for CIF team, depending on if third place qualifies. If the girls make it, they will play on 11/2 at Jurupa Hills Golf Course. If they do well during that round, they may even play at River Ridge, Vineyard on 11/4.
If you are interested in joining the girls golf team next year, please contact the coaches Ted Chester and Larry Doan, or athletic David Irie if you can't reach the coaches. 
Image(left to right): Audrey Hui (9), Janette Fu (12), Erica King (12), Glenda Chen (12), Ellie Vitan (9), Makayla Hernandez (9), Mina Gonzalez (9), Camille Tai (9) [not shown]