Veterans Day – Remembering Our Heroes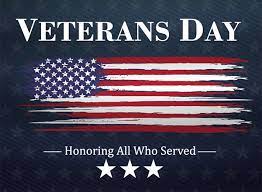 What does Veterans Day mean to you? For most students, it's just a day off from school. It's a relaxing break from school and a time to chill and make up work. It's a time where you can sleep in, relieve stress, and spend time with family. However, for some people with veterans as relatives, it's a period of celebration that honors the people who put their lives on the line for our country. Veteran's Day is a time where veterans receive the credit and recognition they deserve. It's a holiday that honors our country's patriotic heroes and the tradition of peace the US strives to carry out. 
Originally known as Armistice Day, Veteran's Day was made official on November 11, 1918 to honor World War I veterans. In 1954, after being urged by the military, Congress changed the holiday's name to Veteran's Day to honor all veterans, not just veterans who scored in the World Wars. In 1968, the holiday's date was surprisingly temporarily changed to October 25. However, as this decision gathered plenty of controversy, the holiday was moved back to the it original date, starting after 1978.
Especially with last year's celebrations being halted by COVID-19, this year's celebration were incredibly festive and patriotic. Parades were held, speeches were given by the president and other figures in the government, and flags were hung out on lawns throughout the country. Despite this enthusiasm, celebrations weren't too out of the ordinary and nothing gathered too much attention. However, all the festivities did what they were designed to do; proudly honoring the veterans of the United States. 
So next time you celebrate Veterans Day, remember that a peaceful society is a privilege given by the military's service. Remember to honor the unsung heroes of our nation who fight for our right for life, liberty, and the pursuit of happiness.