The Continuous Rise of Inflation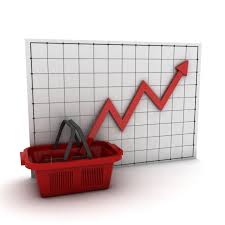 Consumer price inflation, or what we pay for regular goods and services, including food, gas, and clothes, hit a record high in December 2021. Compared with the same month of 2020, inflation was at 7% — the highest in 40 years.Compared with November, prices were up 0.5% in December of 2021. 
Inflation measures rising prices and the decreasing purchasing power of money. The higher inflation, the less you can buy for the same money. According to economists, the recent spike in inflation was mostly due to the COVID pandemic, with increased demand from consumers bumping against many interruptions in the global supply chain. 
"We had extremely low inflation this time last year, so it's not the end of the world that inflation is 7 percent," Daryl Fairweather, chief economist at the real estate brokerage Redfin, told the Washington Post. "It would be very concerning if, next year, it was still 7 percent. But we're going to see some high inflation until the virus is not interrupting supply chains and not causing people to change their spending habits."
Increases in house prices, including rent, are of concern, the Washington Post said. "Economists have been especially worried about rising home and rent costs, which can get locked in through a long-term contract and may not improve after the pandemic abates or supply chains clear up," the newspaper reported.  
Another problem is the new increased demand for used and new cars and trucks with global shortage of microchips and high consumer demand for cars sending prices to new highs. 
The prices for gasoline fell 0.5% in December, after a long increase in prices. Even with recent easing gasoline is still 49.9% more expensive than it was just one year ago on average. 
In the food industry prices went up 6.3% compared to last year. This has been due to worker shortages and the new Omicron virus making more people sick. 
Economists generally agree that the inflation will begin to ease in the coming months, particularly if interest rates are raised as expected. But much certainty remains about how fast and steady this decline will be, particularly as the global economy continues to be challenged by the pandemic.