Tonga Tsunami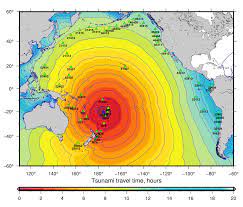 The Pacific nation of Tonga was struck by a powerful tsunami last weekend caused by the eruption of an underwater volcano. The Hunga Tonga-Hunga Ha'apai volcano, located  about 18.6 miles from one of Tonga's islands, erupted on Saturday. January 15, 2022. The eruption of the volcano sent gas and steam up into the air. "Satellite imagery showed a massive ash cloud and shockwaves spreading from the eruption. Ash was falling from the sky in the Tonga capital, Nuku'alofa, Saturday evening and phone connections were down," reported CNN. The volcano's eruption caused a severe tsunami that flooded coastal roads and flooded houses and buildings. There have been no reports of death, or injuries so far. Tonga consists of about 170 islands, mostly uninhabited. 
In Japan the Meteorological Agency issued a tsunami warning early on. This meant that people should seek either higher elevation or go more inwards, towards the mainland. The waves Sunday morning were reaching 9 feet. And even after that there were still reports of multiple smaller tsunamis. After a day full of tsunamis the warning was lifted Sunday afternoon.
Australia's Bureau of Meteorology said they had waves of about 4 feet. Even in areas that weren't affected by the tsunami, officials advised people along the coast lines to get to higher elevations.
In the U.S west coast, waves were seen to be more than 3 to 4 feet high. There were some record wave heights along the west coast, with the first waves hitting the coast on Saturday morning. There have been no reports of any major damage. 
Though the tsunami isn't as widespreadly known, it comes at a time where we seem to have our plate already full. All we can hope is for the best, especially for the residents of Tonga.