Australian Open: Nadal vs. Medvedev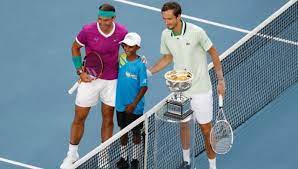 On January 30, 2022, history was made in the tennis world. In a historic matchup between the great Rafael Nadal and the rising superstar Danill Medvedev, the two battled it out for one of the most prestigious titles in tennis: the Australian Open.
The Australian Open is the first of four major Grand Slam tournaments in the year, bringing competitors from all over the world to play on the Australian hard court surfaces. The Open consists of men and women singles and doubles, spanning over a little less than a month to crown a winner for all the divisions. 
This Australian Open was interesting from the start, especially with the shocking news of Novak Djokivic, one of the greats of the game, being prohibited from playing due to his vaccination status. So, after Djokovic's vaccination drama, there were two names that fans knew were set to fight for the title: Nadal and Medvedev. And that's exactly how it was.
Rafael Nadal, one of the game's all time greats and part of the "Big 3," was set to play against an up and coming rising star of tennis, Danill Medvedev, who just last year beat Djokivic in the US Open to win his first major title. The two gentlemen's road to get to the final was nothing short of exhausting, playing through four rounds and 2 knockouts. However, the real test was about to take place. 
Medvedev took to an astonishing start, winning the first two sets somewhat comfortably, with the match looking in his hands. However, Rafa was not done yet. In the next two sets, Nadal took Medvedev 6-4, 6-4, forcing one final set. The Spaniard used all his might and power to pull through and beat the young Russian 7-5 in the last set, pulling off a huge comeback to win his 21st major, which is the most in men's singles history. 
The spectacle at the Rod Laver Arena was one for the books, highlighting the past generation of tennis versus the future. One takeaway from the Australian Open everyone can take is this: Old is Gold.