Joe Rogan vs. Spotify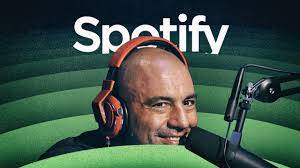 Last week, Spotify faced a difficult decision regarding conservative podcaster Joe Rogan, who's podcasts were being called for removal from the service by a group of artists led by 70s rock singer Neil Young. Young claimed that Rogan's podcasts were spreading misinformation about a multitude of things, including the 2020 election, the events of January 6, 2021, the COVID-19 Pandemic, and the Biden Administration. Neil Young requested that it either be him or Joe Rogan to Spotify, so, Spotify chose Rogan, and removed all of Young's music from the app. Following this, Young told Variety, "If you support Spotify, then you are destroying an art form." These passionate feelings by Young persuading other notable faces in the music industry to leave the service. Musicians such as Young's former bandmate Graham Nash and member of Bruce Springsteen's E-Street Band Nils Lofgren left the platform, citing Rogan's quotes about masks and vaccinations as pieces of misinformation Spotify has not blocked, but rather has allowed to continue to spread.
However, in the past week, Spotify has announced that they would be removing around one hundred episodes of the podcast that contain racial slurs, as well as some more recent COVID-19 misinformation. Many conservative commentators are now accusing the music streaming service of censorship, and are calling for a boycott of the app. Neil Young too has still remained critical of the lack of action Spotify has taken, whereas many of the right-wing commentators are enraged at the actions Spotify has already taken. Rogan's deal with Spotify is in jeopardy, and in order to maintain he is going to have to clean up his act. Although his current content appeals to his base of listeners, he may not have a platform to continue his podcast if he continues to say racial slurs on air and spread misinformation about the pandemic and vaccines.