Nathan Chen's Olympics Outfit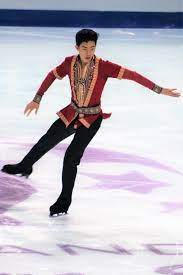 American figure skater Nathan Wei Chen, 22, won gold in the men's singles for figure skating at the 2022 Olympics in Beijing. However, was he dressed to impress? 
According to the Figure Skating Club of the Quad Cities (FSCQC), "Competition skating dresses usually have beads or sequins or sparkles on them." In fact, most costumes not only have these sequins, but there is also usually mesh-like material in some parts of the outfit.
Chen was wearing a piece from Vera Wang, a 72-years-old American fashion designer. On the day Chen was competing in the short skate, he wore a simple black suit-like costume that Wang designed. On the second day when he was competing in the free skate, he wore a bright orangish costume resembling a galaxy. But, were these two outfits the right decision? 
Chen wanted a costume that looked like a suit but felt like a Nike sweatshirt, which was hard for Wang because "tailoring is tailoring. T-shirts are t-shirts. But to straddle that divide was the most challenging part." She had to find and prepare material that would provide movement and be suitable for the audience's taste. For Chen's galaxy outfit, Wang also put a lot of thought into it and "meant to refer to the fire and power to propel man out of the atmosphere…[She] wanted this costume to look like he was on fire." Despite her efforts, many people disliked the costume due to a variety of factors. 
Competing at the Olympics is no small feat, which is why the skaters usually go all out for their costumes. However, many have been concerned about what Chen wore. 
"I can't believe he wore a simple tux to skate at the Olympics! It's almost like he didn't prepare for the competition and just wore whatever he found in his closet," Elise Mach, 12, said. "His outfit the second day was worse. It looks as if the image was just printed on. It reminded me of the galaxy trend back in 2016 where Google images of a galaxy were just cheaply printed on and mass produced onto clothing," Rachael Wen, 12, said. 
It's not just the students at SMHS who agree. There are many online who are attacking Wang and her choice of outfits for Chen. One user, @baobbaz, commented on Wang's Instagram, "did you even try Vera?" Another user, @kellerrss_, commented "It's giving tumblr 2015 galaxy leggings." Another user, @sophiaelbow, wrote, "Nathan Chen won the Olympics but he would've lost that costume contest so bad[ly]." Additionally, there are others online such as the users on TikTok who have made videos mocking his outfit and condemning Wang. Moreover, people have created a multitude of memes on Chen's galaxy fit; many have edited a Jansport logo onto his attire because the backpack brand had a popular galaxy design on it around 2016.
While Wang was meticulous in her planning and designing, Chen's costume was not good enough for many people on the Internet. "I think it was the printed galaxy design that really made everything go downhill. If she did some sparkles and embroidering or something, I think people would have enjoyed it more," Jenny Zhang, 10, said.