Ye (Kanye) West Feuds with Kim Kardashian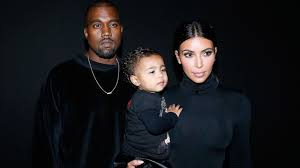 After their divorce, Kim Kardashian and Ye West, formerly known as Kanye West, have started to argue publicly about their daughter North using TikTok.
Rapper West, 44, strongly disapproves of his daughter North, 8, having a social media presence on TikTok at such a young age. On an Instagram that he has taken down since, he posted, "Since this is my divorce I need to know what I should do about my daughter being put on TikTok against my will?" he wrote.
Influencer and TV reality star Kardashian,41, replied, "As the parent who is the main provider and caregiver for our children, I am doing my best to protect our daughter while also allowing her to express her creativity in the medium she wishes with adult supervision — because it brings her happiness."
West replied, "What do you mean by main provider?"
In a Hollywood unlocked exclusive interview, West further voiced his concerns. "Don't have my daughter wearing lipstick on TikTok. Don't have her on TikTok at all if I don't approve of that," he said. "I feel like it's poking the bear — trying to antagonize me."
But, is Kanye overreacting? Almost all children love to use social media, and the children in the Kardashian-Jenner family have been constantly exposed to it. It's not a crime to make harmless videos and post them online. In fact, North's TikTok account is being managed by Kardashian herself, which is no secret because the username is "kimandnorth." Moreover, all the comments are turned off, and North's content is fairly harmless and normal for an 8-year-old. 
Some may argue that Kanye's right in being worried about North's account because the Internet and social media is a dangerous place that can harm the impressionable minds of children, but Kardashian is also a parent that's trying to give her daughter some happiness and sees no harm in having a couple fun videos on the Internet. Yet, according to TikTok guidelines, "The accounts for users ages 13 to 15 [are set to] private by default. [We will] tighten other controls for all users under 18, in terms of how they can interact with other users and TikTok content itself." 
There should be a compromise between all 3 parties involved. Seeing that North posts content without comment turned on and only follows 9 people, she can create another account and make it private to share her content with people she trusts.