The Evolution of Wordle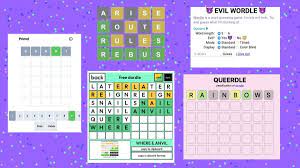 Wordle is a word game that has gone viral amongst the public. Players get 6 tries to guess the 5 letter word that is renewed daily. Players are given hints based on the coloring of the letters in the words they input. If the letter is gray, it is not part of the daily word. If it is yellow, it is a part of the word, but in the wrong place. If the letter is green, it is a part of the word and in the right spot. Wordle keeps track of how many words you get right in how many attempts, as well as how many days you have been playing to keep track of a player's progress. 
The game has become so popular that there have been other versions that parody it. For example, Global is a spinoff of Wordle where you have to guess a country based on a picture the game provides. Different fandoms have hopped onto the Wordle trend as well, creating Taylordle for Taylor Swift fans and BTS wordle for armies. People have also put an educational spin on it, creating Numberle for people to guess the new daily math equation. 
Everyday, Wordle has a new mystery word that is the same amongst all players. However, on February 16, there were two answers to the game, agora and aroma. Many were upset by this glitch, complaining about how "agora" was too obscure of a word or how having two answers was unfair. This incident may have been because some players were playing on the original version, while others were playing in the New York Times. This mitchmatch can be rectified by refreshing the website they are playing on so that it can be synced up to the latest version.