March Madness: Sweet Sixteen and Elite Eight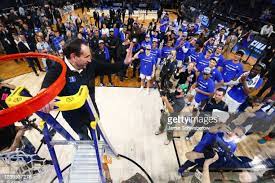 Only sixteen teams remained as the Sweet Sixteen began, with each team alive needing just four more wins for a National Championship. Day One of the Sweet Sixteen kicked off with an all-time classic between Arkansas and Gonzaga. Gonzaga, being the top overall seed, was a heavy favorite, but as the game progressed, no team could pull away. However, Arkansas was overall just the more consistent team throughout, as they edged it out at the end. And with Gonzaga out, Arizona was now the team to beat. But their game did not go to plan either, as Houston ended up defeating Arizona by twelve. 
Villanova ended Michigan's Cinderella run, while Duke continued their fantastic postseason with a close win over the Texas Tech Red Raiders. The following day, Kansas, as expected, handled Providence with ease, while Miami continued their run with a nice win over Iowa State. 
In a battle of two blue bloods, UCLA and North Carolina played down to the final minute, in which UCLA fell in a heartbreaker for Bruin fans. Many fans continue to ponder on the questionable calls made by the referees, resulting in a raising awareness about their refereeing ability. However, the story that overshadowed this shocking potential revelation was Saint Peter's upset win over Purdue, becoming the first ever fifteenth seed to make the Elite Eight. History was made with this narrow three point win over the Boilermakers, as the Peacocks advanced to the Elite Eight on National Peacock day.
The first of four Elite Eight games was a low scoring defensive battle between Villanova and Houston. In this toss up of a matchup, there was no clear favorite and it seemed as though both teams were on equal footing. With a final score of 50-44, Villanova became the first team to punch their ticket to New Orleans for a chance in the Final Four. 
Duke and Arkansas also dueled that day, and for a moment it seemed as though the storybook ending for Coach K would certainly not happen, as Arkansas had a great chance of pulling ahead. However, Duke managed to reverse all of Arkansas' momentum and turned it into fuel of their own, propelling the Blue Devils to a nine point win, sending them to the Final Four in Coach K's last season. 
A hopeful Miami team, looking to shock the College Basketball world with an upset over Kansas, started off strong in their showdown, but Kansas outscored Miami 47-15 in the second half, crushing Miami fans and having the Jayhawks fill the third of four spots in New Orleans. 
In the final game of the round, 15th seeded Saint Peter's had a shot to make history. Could they be the first ever 15 seed in the Final Four? To put it simply, no, they would not make the Final Four, waking up all basketball fans from a memorable dream run by the Peacocks. North Carolina dominated them to a twenty point victory. However, in this win, the Tar Heels were able to make some history of their own, as now, in the Final Four, Duke and North Carolina will meet for the first time in the NCAA tournament. Despite years of this iconic rivalry, the enemies have never met on the highest stage, and this battle in the Bayou will certainly be one to keep a close eye on.