Standing in the Gap for Dance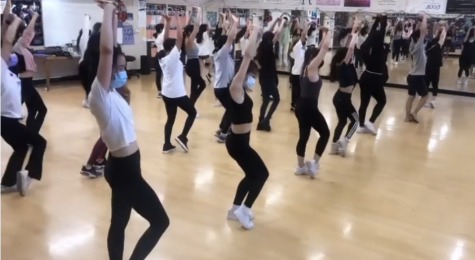 In Los Angeles' massive public education system, our school district is considered as one of the "haves." Yet, even we have not been sheltered from bruising budget cuts and the effects of a shrinking enrollment. When teachers and counselors were pink-slipped in consecutive years, when faculty had to picket for fair remuneration, and when program and course offerings were continually reduced, the effects permeated the district. 
Whenever belts need to be tightened, the arts are almost always the first casualties. Anyone who has been involved in the arts in our school district in the last few years will tell you that there is a dreadful smell of doom in the air, in anticipation of where the ax will fall next. As a visual and performing art in our competitive high school, dance is not spared. 
Before the pandemic drove all classes online, no dancer imagined that dance could be taught remotely. Yet, for those who stayed the course with the new dance director, we benefited from a year where strength was built and technique honed. I have never seen Ms. Tracy Shen flustered, not even when the odds seemed decked against her–and starting a teaching career via zoom, with 5 levels of dance already reduced to 4, would be considered significant odds to most. Despite these challenges, her energy was infectious, and in her resilience, we all drew strength.
When in-person classes resumed this year, a new compulsory physical education course for all freshmen crowded dance out of the schedules of many. The significantly reduced enrollment forced the stacking of 4 levels of dance into 2 periods, and several doubters wondered if this was the beginning of the end of dance at San Marino High School (SMHS). 
Refusing to give up, we determined to make dance relevant beyond our walls. This year, Dance Company (DCo), the highest level of dance at SMHS, conducted more workshops and open call auditions than any previous year–bringing many more from within and outside of SMHS to our dance studio than ever before. Promoting dance in lower schools within the district, teaching 8th grade PE for a week, and running junior workshops for 3rd to 8th graders, we inspired a new generation of dancers. 2 weeks ago, DCo attended our first dance competition at Azusa Pacific University and was awarded 1st prize overall in both dance genres that we competed in. Junior Xin Xin Rong and sophomore Melody Chen added the cherry to the cake by bagging 2 of the 3 individual titles up for grabs. Our small dance team was putting SMHS on the regional dance map for the first time!
When we returned after that exhilarating weekend, however, news broke that course scheduling packets have reflected further cuts that will impact the 2 upper levels of dance next year. Despite all our efforts to draw a bigger enrollment in the lower levels, we were about to lose another level of dance.  To the uninitiated, different dance levels may seem unnecessary, but dance is a team sport, with equal emphasis on both words. It takes time to develop dance muscles and fluidity, and being in a class with others who are of the same caliber allows us to improve and perform as one. 
I expected to feel rage, but there was only a debilitating numbness. Two choices laid before us: accept the decision that has been made for us, or speak up and be counted. Pushing past apathy, we chose the latter. Over a week, DCo pulled an appeal together–rallying others in the department to add their names but also contacting alumni for support. 17 brave dancers penned their individual thoughts about the change; 10 parents added their voices to ours. 
The realization that life is not handed to us on a silver platter is an important part of growing up. While we await a response to our appeal, we have the satisfaction of knowing that we have advocated strongly and constructively for ourselves. Meanwhile, preparation for our last show of the year continues without disruption. Dancetra will involve almost 200 dancers this year–another record for dance at SMHS. For every Dance Department dancer on stage, more than 3 are from without–including 6 members of the SMHS faculty who will perform with DCo in "Dancing With The Teachers." While it is a huge task to teach choreography and achieve synchronization with so many, there is immense power in working collectively towards a common goal. 
Like all physical movement, dance is an expression of emotion; it is the hidden language of the soul. Come watch the magic at our 3 shows from 28th to 30th Apr, and stand in the gap with us for the future of dance at SMHS!