Monkeypox: The Next COVID?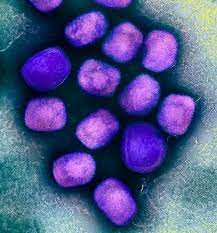 Leo Feng, Political and News Editor
September 9, 2022
While COVID has finally began to subside, another deadly virus has suddenly emerged, once again threatening humanity. Over the past few weeks, monkeypox has been featured in many headlines with many news websites labeling it as a second coming of COVID-19. However, contrary to popular belief, monkeypox is not a new variant of the pox virus. Instead, it has been a known virus for over 60 years with the first case being identified in 1958 among a colony of monkeys that were being used for research in Copenhagen, Denmark, hence the name monkeypox. It wasn't until 12 years later that the virus was first discovered in a human, with the first documented human case of monkeypox being found in a nine year old boy in the Democratic Republic of Congo. 
Because monkeypox is transmitted through close physical contact, people should focus on avoiding close contact with those infected. Generally, people should also maintain healthy hygiene and try to avoid touching contaminated materials. When infected by monkeypox, students should stay at home and receive any necessary medication. If symptoms begin to escalate, students should visit a hospital as soon as possible. 
Those infected with monkeypox often receive a variety of symptoms, none of which are terribly deadly. As of right now, the most identifiable symptom of monkeypox is rashes that appear all over genitalia as well as one's face, chest, and arms. Other symptoms include having fevers, chills, exhaustion, muscle aches, headaches, and respiratory issues. Generally, symptoms start three weeks after exposure and last for one to four weeks. 
As of right now, there are over 31,000 monkeypox cases worldwide with around 10,000 of those cases being found in the United States. While the disease has less virulence and is less contagious than Covid19, it still poses an immense threat towards human health. "We get concerned when we see a virus doing things that we normally don't see it doing," Anne Rimoin, an epidemiologist from UCLA who has centered her work on monkeypox, said.