The Hot Stove is Heating Up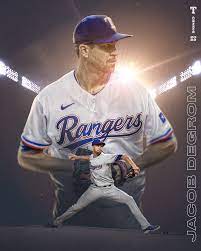 Free agency. The time of year where the sports landscape changes in each respective sport. But free agency in the MLB affects the sport more than any other. Teams have turned from a bottom feeder to a contender, and then back to a bottom feeder over the last several seasons, and all those instances can be traced back to free agency in the MLB. So let us take a look at the moves as of December 16, 2022, in regards to where players moved to and how the landscape has drastically changed already. 
The biggest move was ace pitcher and former Cy Young Award winner Jacob DeGrom leaving the Big Apple and heading to Texas, where he signed a five year contract with the Texas Rangers. His $185 million deal was the first of many moves that kicked off the blockbuster signings this offseason. Shortly thereafter, former Dodger shortstop Trea Turner inked up a ten plus year contract to reunite with his old teammate Bryce Harper in Philadelphia, and the Phillies look to be the World Series favorite at this current moment. His move marked the first of the four major shortstops on the market, leaving Carlos Correa, Dansby Swanson, and Xander Boegaerts still unsigned. 
Both Bogaerts and Correa were in talks with the Dodgers, but instead of signing with the Boys in Blue, the each went to one of the two fellow NL West California teams, with Boegaerts taking his talents down to San Diego to play for the Padres, while Correa moved up to the bay to sign with the hated San Francisco Giants, as Dodger fans would say. Correa, an already polarizing and hated figure in Los Angeles because of the 2017 Astros cheating scandal, now signing with the Dodgers arch rival, makes him one of, if not the most hated person among Angelino sports fans. 
One more major signing that took place in the first month of free agency was southpaw ace pitcher Carlos Rodon leaving the Giants and taking his talents to the Bronx, where he would join a strong Yankee rotation as a top two arm, a long with preliminary Cy Young candidate Gerrit Cole. So far this offseason, no moves really signified a team making an unprecedented leap up or down, unlike most offseasons. The only major shock has been how passive the Dodgers have been in free agency. Usually one of the most aggressive teams, the Dodgers have brought in just a couple minor leaguers, along with hard throwing right hander Noah Syndergaard. Many free agents still remain unsigned, but as the season grows nearer, the question remains, what moves will shake up the landscape of the sport?