Ronaldo Shocks Soccer World as he Heads to Saudi Arabia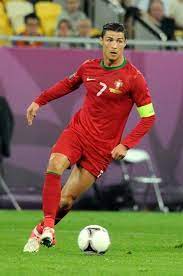 For someone who has changed the game of soccer in such drastic ways, Cristiano Ronaldo has ended his esteemed career in tragic fashion. Once considered the greatest of all time by billions of fans around the world, the five time ballon-dor has disgraced himself at his former club Manchester United and has just joined Saudi Arabian club Al-Nassr, reportedly signing a contract that may grant him close to $200 million dollars, making him by far the highest paid athlete of all time. "I am fortunate that I have won everything I have set out to win in European football and feel now that this is the right moment to share my experience in Asia," Ronaldo said upon signing with the club. "I am looking forward to joining my new teammates and together with them help the club achieve success. 
In what can only be described as a tumultuous month for Ronaldo, the Portuguese superstar witnessed his rival Lionel Messi finally win the World Cup while his own country crashed out at the quarter finals after losing to Morocco. Ronaldo also had an interview with British journalist and television personality Piers Morgan which received immense backlash from Ronaldo's supporters and critics alike. In the interview, Ronaldo chose to speak out on his current situation at English club Manchester United, disrespecting both the players and his own manager Erik Ten Hag. Ronaldo also called out former manager Ralf Rangnick and insulted the club's owners and recruiting staff, saying "I don't know what's going on, but since Sir Alex Ferguson (Manchester United's greatest manager) left, I saw no evolution in the club. The progress was zero." This stark criticism of the owners was the final straw and Ronaldo was soon fired, something that was unprecedented for players on the caliber on someone like Ronaldo. 
Still, despite this tragic end, we must remember Ronaldo as the icon he is. Arguably the most influential athlete in the world with by far the most followers on social media platforms like Instagram, Ronaldo has inspired countless young children to pursue their dreams throughout his historic career. As of now, Ronaldo is the highest goalscorer in both international and club football as well as a 5 time champions league winner and Euro 2016 winner. It is a sad end to a great career, but he was still able to achieve everything he wanted in the sport. Overall, Ronaldo's decision to stray away from Europe, along with Messi's imminent retirement, has marked the end of a historic era and the start of a brand new one brimming with talent.