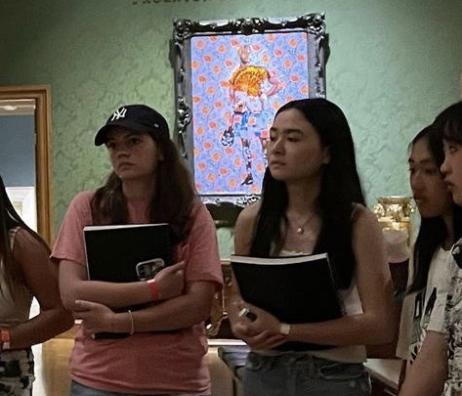 In a pursuit of intellectual growth and cultural enrichment, the Honors Humanities Seminar class, taught by Ms. Davidson and Ms. Pauline, went on their first field trip to our neighboring Huntington Library and Art Museum during third period and lunch. The Huntington Library, situated in the outskirts of San Marino, is renowned for its extensive collection of rare books, manuscripts, and art which would deepen students' understanding of the course material while fostering a deeper appreciation for the arts and cultural heritage.
Armed with notebooks and cameras, the students went to the Grand Mansion and were tasked to sketch portraits of Henry. E Huntington's family portraits and also textiles that were prevalent in the nineteenth century. Afterwards, students walked across the Huntington Botanical Gardens which were filled with many different flowers and exotic plants.  "The garden grounds are gorgeous and the visual art is abundant," Allyson Wang, 11, said. In addition, the students were able to see rare manuscripts with intricate calligraphy that expressed centuries of human thought and expression. In addition to the manuscripts, the class explored the impressive art collections from the nineteenth-century housed within the art galleries.
With the sketches of the Huntington's family portraits and textiles, the students completed their task and gathered around the bus to go back to their next class at school. The trip had not only deepened their understanding of the course material but also inspired them to think critically about the intersections of literature, art, and history. "The trip was a lot of fun and a great way to break up the school day by going off campus and doing something outside the classroom," Harrison Walker, 12, said.