Mrs. Leyda Escamilla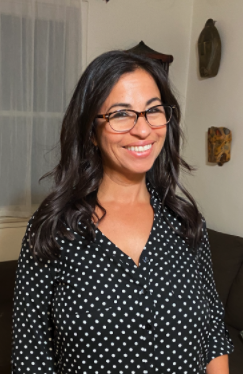 The beginning of the new school year initiated changes in the personnel, to which Mrs. Leyda Escamilla was ecstatic about an open health aide position at the high school. After retiring from the sheriff's department, Mrs. Escamilla began working at Huntington Middle School for three hours a day until she decided to work there full-time for six years. Recent events lead to Mrs. Escamilla transferring her work to the high school, where she recounts her inspirations, what she enjoys the most about her job, and what she is working on during the pandemic.
Mrs. Escamilla's children inspire her on a daily basis, "[…] to move forward, do better, [and to] show them through example," Mrs. Escamilla said. Four months after her daughter was born, Mrs. Escamilla retired from her job and became a stay-at-home mom for 13 years before working at the middle school. Mrs. Escamilla instantly became passionate about being a health aide, as she enjoyed "[…] spending time with the kids, they're entertaining, they're interesting. […] I clicked with them, I just have a good time working with the kids," Mrs. Escamilla said.
 In 2019, Mrs. Escamilla was temporarily assigned to work at the high school for several months before going back to the middle school right before the Covid-19 situation escalated. When Mrs. Escamilla first started working at Huntington, she liked working with the former principal, Mr. Kurtenbach. "I think he is forward-thinking, […] he allows people to do their job without micromanaging, and he has trust and faith in his employees," Mrs. Escamilla said. Hence, once she found out that Mr. Kurtenbach was going to be the principal at the high school, "[…] I jumped at the chance [to work with Kurtenbach again] and I asked for the request to transfer," Mrs. Escamilla said.
Additionally, Covid-19 has changed the way Mrs. Escamilla looks at her work since she is not interacting with students during the pandemic. "We are working hard right now, […] to make it as safe as possible for when students do return. We're having meetings on a weekly basis, and […] trying to find the best way to make it happen," Mrs. Escamilla said. The health aides are also taking into account how to detect students that may be affected by the virus, in both physical and mental ways. 
Therefore, Mrs. Escamilla is driven by her inspiration to be an exemplary role model for her children, and chose to transfer schools when a position opened up at the high school where Mr. Kurtenbach would be the principal. Thus, despite recent circumstances, Mrs. Escamilla and the other health aides continue working hard to provide students and staff with a healthy and positive atmosphere to return to once conditions improve.