Super Bowl LVI: Rams vs. Bengals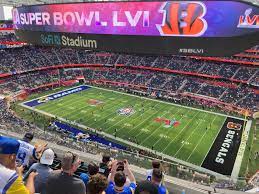 "It's time for the SUPER BOWL!" Dwayne "The Rock" Johnson cried out after introducing and officially starting the 56th edition of the Super Bowl, the biggest sports event in America. This past Sunday, The Los Angeles Rams and Cincinnati Bengals faced off to fight for the Vince Lombardi Trophy. 
After an incredible season by both teams, the Rams being highlighted by newcomer Matthew Stafford and star wide receiver Cooper Kupp, and the Bengals by sophomore quarterback Joe Burrow and company, the two teams were ready to test each other's strengths and exploit the other's weaknesses. 
The hype to this Super Bowl was unlike any other, especially under the current circumstances of the COVID-19 pandemic declining, and life slowly going back to normal. So without any more wait, let's get to the game!
The game started off with a slow, defensive battle, but started to heat when both quarterbacks got off the mark. Rams' Matthew Stafford started off hot, keeping a high completion rate throughout the game, targeting his trusty wide receivers, especially the Triple Crown King of the season, Cooper Kupp. However, Cool Joe Burrow of the Bengals helped his team stay within a one-score game going into half. Just as electrifying and anticipated the Super Bowl, so was the halftime show.
The Pepsi Halftime Show was an incredible experience for all who watched, seeing old time stars such as Snoop Dogg, Dr, Dre, Mary J Blige, Kendrick Lamar, 50 Cent, and Eminem. In a collage of different hit songs, the stars kept the Sofi crowd and fans around the world engaged in a nostalgic trance. Some say this halftime show beats all others, bringing rap to the show for the first time, setting the tone of what the Super Bowl looks like in LA. The halftime show only added to the exhilarating Super Bowl experienced, shared by football fans everywhere.
In the second half, the Bengals came out more dominant, taking the lead and holding up on defense. However, a 79-yard drive by the Rams, a touchdown by Cooper Kupp, and a game-winning stop by Aaron Donald, sealed the deal for the Rams and helped them get their first championship in Los Angeles. This was the second year in a row where a team won the Super Bowl in their home stadium. However, to the players on the Rams team, this meant something else. Continuous years of patience and hard work led them to this moment of cementing their legacy with the ultimate desire: a Super Bowl.