Georgia Routs TCU in National Championship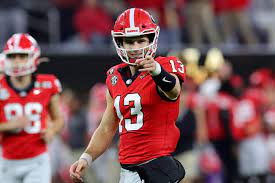 SoFi stadium was filled to the brim with purple and red representing the TCU Horned Frogs and the Georgia Bulldogs in the final game of the college football season. A hectic year full of ups and downs, wins and losses, and upsets galore all comes down to this. The Bulldogs were expected to be here in the preseason, but for TCU, it was a miracle they even made it this far. They were not ranked in the preseason, and had won a majority of their games by one score. After TCU shocked Michigan and Ohio State came just short of beating the top-seed Georgia, a lot hype surrounded this game, but unfortunately, the game did not live up to the hype.
Despite a close first quarter, at one point the score being 10-7, Georgia leading, the Bulldogs quickly ran away with it, leading 38-7 at the half and winning the game 65-7. In Stetson Bennett IV's final game, he solidified himself as a college football legend, becoming the first quarterback to win back to back titles in over a decade. About the game, there really is not much to say. Georgia outclassed TCU. The Horned Frogs were no where near the level of the Dawgs. After two of the greatest semifinal games of all time, many fans expected another insane game in the championship, but TCU did not come to play, and Georgia did.